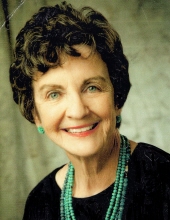 Obituary for Ann Boyle Belknap Groff
Ann Boyle Belknap Groff passed away at home Saturday, September 7, 2019. Ann was born in 1934 in Oklahoma City to Maudie Marie Collins Boyle and Bernard Samuel Boyle. Part of her childhood was spent in Little Rock, Arkansas, which influenced her greatly, she graduated from Classen High School in Oklahoma City and the University of Oklahoma.

She married Harold Raymond Belknap, Jr in 1955. Their daughter, Jamie Lucille was born in 1961 and their son, Harold Raymond Belknap III in 1962.

After living in New Orleans, Nashville, Denver and Munich, they returned to Norman where Ann served as President of the University of Oklahoma Museum of Art, Chairman of the Environmental Advisory Board, and served on the boards of Food and Shelter for Friends, and The Christmas Store. She also served on the Community Development Block Grant Committee. She baked cookies for the children at Dimensions Academy South every month for 11 years and became known as the "cookie lady."

Ann was a member of PEO Chapter A.U., The Assistance League, St. Stephen's Methodist Church and the Democratic Party.

She met her sweet, funny husband, Gene Francis Groff, in 1986 and enjoyed 33 years of happiness with him. Ann is survived by Gene; her daughter, Jamie Belknap and her husband, Joe Hausknecht; and her son, Harold Belknap Ill and his wife, Janie Valouch Belknap; and her step-son, Brad Groff and his wife, Mindy Passmore. Her grandchildren are Jeremy Foor and his girlfriend Katie Swank; Gordon Foor-Rhoades and his wife Taylor Foor-Rhoades; Emilia Belknap and her fiance', Calum Frain; Leila Belknap and her boyfriend Eric Rahill; Samuel Groff and his wife Bethany and their sons Ryker and Raiden; and Cortney Groff Moore and her husband, Jeremy and their daughter, Peyton.

She is also survived by her brother, David Boyle and his wife, Stitch; nephews Matthew Boyle and his wife, Nurcin Ozbay, and Jonathon Boyle and his wife, Kelsey and their children, Siena, Luca and Sophie; her nieces, Julie Boyle Peake and her son, James, and Joyce Boyle Cave and her daughters, Shayna and Alena. Ann and her cousin, Jane Boyle Adair, were like sisters. Predeceasing Ann were her brother, Bernie Collins Boyle, and Gene's daughter, Jennifer Groff Sheppard.

She was proudest of her children and grandchildren, and that she improved her community by obtaining signatures for the Norman Open Housing petition in 1968.


Previous Events
Celebration of Life
St. Stephen's United Methodist Church
1801 W. Brooks St.
Norman, OK 73069
Memorial Contribution
St. Stephen's United Methodist Church
1801 W. Brooks St.
Norman, OK 73069