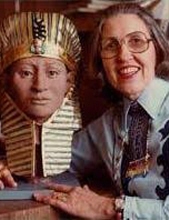 Obituary for Betty Pat Gatliff
Betty Pat. Gatliff was born August 31, 1930 in El Reno, OK to R. P. and Ella Gatliff. She passed away at the University of Oklahoma Medical Center in Oklahoma City on January 5, 2020.

She was a pioneer in the field of forensic art and forensic facial reconstruction. Gatliff received a Bachelor of Arts degree from Oklahoma College for Women College for Women in 1951, where she served as president of the Student Government and has been named a Distinguished Alumna. Her college roommate, Barbara Benton of Norman, has remained a dear life-long friend.

She worked as a medical illustrator and technical illustrator in the U. S. Civil Service for 27 years at Tinker Air Force Base in Midwest City, the Navy Base at Norman, OK, and the Federal Aviation Administration in OKC. Upon her retirement in 1979, she began a freelance career as a sculptor, illustrator, and teacher.

Gatliff was a resident of Norman since 1952 and was a charter member of Bethel Baptist Church, where she faithfully attended along with her mother, Ella Gatliff. Known simply as "Betty Pat" by countless friends throughout the United States, she was instantly memorable for her playful and sunny disposition and contagious sense of humor. Usually spotted wearing cowboy hats and boots, donning her trademark red lipstick and Native American jewelry, she aged almost imperceptibly. As a younger woman, she was the driver of bright red Corvettes, but later in life she loved to chauffer a cadre of friends in her big blue Lincoln or her various pickup trucks.

She was woman of many hobbies and interests, including bowling, woodworking, leatherwork, painting, wood carving, jewelry making, and, of course, sculpture. She built a kid-sized replica western town she called "Gatliff Gulch" with a full-sized wooden horse and half-scale car in her backyard for her nephews and the neighborhood kids. Through her work and vacationing she traveled extensively. She was a lover of most kinds of music, and always had music playing throughout the day while she worked on various projects. She regularly attended cultural events at the University of Oklahoma and was a loyal OU football and basketball (especially women's basketball) fan.

In 1967, she and forensic anthropologist Dr. Clyde Snow were the first to use clay facial reconstructions on skulls to identify murder victims. Their technique became widely known in the field of forensics as the "Gatliff-Snow" or the "American method" of three-dimensional facial reconstruction. Working with law enforcement agencies throughout the United States over the next 50 years, she did more than 300 forensic facial reconstructions with a documented identification rate of 72 percent of the victims. Those cases included several victims of the serial killers John Wayne Gacy and Gary Ridgeway (the Green River slayer), as well as President John F. Kennedy, as she assisted the United States House Select Committee on Assassinations beginning in 1978.

Her facial reconstruction techniques were also used for historical purposes as she did forensic facial reconstructions for Pharaoh Tutankhamun, Conquistador Francisco Pizzaro, unidentified soldiers from Custer's army from the Battle of Little Big Horn, and several pre-historic Native Americans.

Her work has been profiled in Life Magazine, National Geographic World, and numerous newspapers television programs across the country. She served as a technical consultant for the television series "Quincy, M. E." and contributed her forensic art techniques to the film "Gorky Park." Her techniques have since been woven into the plots of several television crime show episodes.

She was the recipient of the Charlotte Holt Award in 1988 from the Association of Medical Illustrators and the John R. Hunt Award in 1991 from the American Academy of Forensic Sciences. The Wall Street Journal has called her a "forensic legend."

For the last decades of her career, Gatliff devoted herself to training a generation of forensic artists as she taught her techniques at the FBI Academy, Scottsdale Artists School in Arizona, the Cleveland Institute of Art in Ohio, and the University of Oklahoma. Her students are serving law enforcement agencies across the nation. She was a contributor to the textbook "Forensic Art and Illustration" by her student and friend Karen T. Taylor.

Survivors include her sister-in-law Dorothy Gatliff of Mustang, OK, two nephews, John Gatliff II and wife Joetta of Mustang, OK and James Gatliff and wife Lynda of Celeste, TX, and numerous great nieces and nephews and cousins. She was preceded in death by her parents, her sister Jacqueline Gatliff, and her brother John Gatliff.
Previous Events
Celebration of Life
Bethel Baptist Church
1717 W. Lindsey Street
Norman, OK 73069
Cemetery Details
Location
El Reno Cemetery
1300 East Elm Street
El Reno, OK 73036
Memorial Contribution
Bethel Baptist Church
1717 W. Lindsey Street
Norman, OK 73069