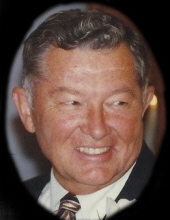 Obituary for Charles Ray "Chuck" Prater
"… And what does the Lord require of you? To act justly and to love mercy and to walk humbly with your God." - Micah 6:8

Chuck Prater was born in Ft. Worth, Texas on December 18, 1930. His parents were Ray and Virginia (Durham) Prater. His childhood years were spent in Breckenridge, Eastland, and Cisco, Texas.

Chuck graduated from Childress High School and enrolled at Cisco Junior College. Before graduation, Chuck enlisted in the Navy, serving from 1950-1954. He spent much of that time on the aircraft carrier, Badoeng Strait, during the Korean Conflict.

When he returned from the Navy, Chuck re-enrolled at Cisco Junior College. It was there he met Lundy Ann and they began a journey of over 61 years. The two were married at First Baptist Church in Cisco, Texas on June 9, 1956 then the newlyweds immediately moved to Lubbock, Texas where they both finished their undergraduate degrees. While in Lubbock, God blessed their marriage with two wonderful children, David and Denise.

The Praters were charter members of Monterey Baptist Church in Lubbock. When the Postal Training Center opened in Norman, Oklahoma, Chuck was asked to come on as one of the first instructors. During his time there he received his Master's Degree from the University of Oklahoma in Adult Education, an education that served him well, as he taught at the training center until his retirement in 1992.

After retirement, Chuck found his second calling with the Union Baptist Association Mission Builders (UBA). During that time, he rebuilt churches and assisted with construction projects at special needs camps, including work at Camp Barnabas and Tulakogee. Chuck was a selfless servant, helping those in need with new cafeterias, wheelchair ramps, and newly constructed cabins.

Chuck's Thursday golfing rounds with First Baptist Church was another moment he cherished- time to share and be with friends. Chuck was always quick to help Lundy with her classroom projects for the school children. From making listening centers to cutting down branches for Easter Egg trees, there is nothing he would not do for her. He loved working on home projects such as building patios, fish ponds, things to please Lundy and make the back yard "Southern" for her. Chuck loved to read and take courses at the Vo-Tech. His motto in high school was "The higher I climb, the better the view."

Time with his children was precious for Chuck. He took scuba diving lessons so he could dive in the Florida Keys with his son David. There was nothing he couldn't fix - just ask Denise about all the house projects he helped her with. The window boxes, the wallpaper, and the shelves in the OU room. The list goes on and on. Chuck showed his love through his actions. Chuck would constantly entertain his grandchildren with renditions of Donald Duck voices, backyard games of golf, and fishing expeditions in the bird bath.

Chuck joined First Baptist Church in Norman as a member in January 1970. He served on the Bikes and Bible and the SMART teams, he worked on Mission House, and he was on many other committees. Chuck was known for his love of family, love of God, and love of country. He was very proud of the fact that his family was chosen "Family of the Year" in 1984 through community nominations.

Chuck is survived by his wife Lundy and their children: David and his wife Tamara and Denise and her husband Danny Davis. His grandchildren include Amanda and Natalie Davis and Kathryn and Alexander Prater. Chuck will also be forever remembered by his numerous nieces, nephews, extended family and dear friends.

The family would like to thank Annie Lewallen and Oklahoma Hospice Care for helping Chuck in the last stages of his life.

Chuck's family has entrusted his care to Tribute Memorial Care in Norman (405.292.4787).

A Celebration of Life service will be held at the First Baptist Church of Norman (211 W. Comanche) on Wednesday, February 28th, 2018 at two o'clock in the afternoon. Chuck will be laid to rest at the Fort Sill National Cemetery in Elgin, Oklahoma.

Donations may be made in Chuck's name to First Baptist Church of Norman or the UBA Mission Builders.
Previous Events
Celebration of Life
First Baptist Church, Norman
211 W. Comanche St.
Norman, Oklahoma 73069
Cemetery Details
Location
Ft. Sill National Cemetery
2648 Dunn Road
Elgin, OK 73538
Memorial Contribution
Union Baptist Association Mission Builders
1637 N. Stubbeman
Norman, Oklahoma 73069
Please make checks payable to "Union Baptist Association" and designate "Mission Builders" in the memo line.