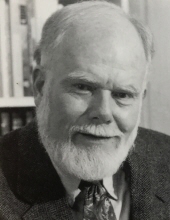 Obituary for David A. Dary
David Dary, a respected journalist and prolific author who shepherded the OU journalism program's transition from a school to its own degree-granting college, died Thursday after a brief illness. He was 83.

Celebration of Life Services are scheduled for 2 p.m., Wednesday, March 21, at St. John's Episcopal Church 235 W. Duffy Street in Norman.

A Manhattan, Kansas native, Dary was recruited to Norman in 1989 to lead the H.H. Herbert School of Journalism and Mass Communication. He previously served as a faculty member and administrator for 20 years at the University of Kansas' William Allen White School of Journalism and Mass Communication.

Upon his arrival at OU, Dary worked tirelessly to get the school reaccredited and back in the graces of the state's newspaper publishers. He approached Edward L. Gaylord in the early 1990s requesting consideration for a $22 million gift to build a new journalism building and underwrite faculty positions and scholarships. Later, with the help of the university's new President David Boren, the gift became reality.

"David Dary was multi-talented," Boren said Saturday. "Not only was he an outstanding teacher, but he was also a gifted writer and historian of the American West. He was an inspiration for countless students."

At Kansas, Dary began writing newspaper articles on Kansas history. That lead to a 21-book publishing career. Four books dealt with journalism and the remainder focused on the historical aspects of the American West. Notable among them are, "The Buffalo Book," "Cowboy Culture," "True Tales of Old-Time Kansas," "Entrepreneurs of the Old West," "Seeking Pleasure in the Old West," and "Red Blood and Black Ink: Journalism in the Old West."

Among his awards were two Wrangler Awards from the National Cowboy & Western Heritage Museum, two Spur Awards and the Owen Wister Lifetime Achievement Award from the Western Writers of America.

He received the Arrell Gibson Award for Lifetime Achievement from the Oklahoma Center for the Book and was inducted into the Oklahoma Journalism Hall of Fame and the Oklahoma Higher Education Hall of Fame. Prior to his teaching and academic career, Dary worked in radio and television news, first in Kansas and Texas before joining CBS News in Washington. He covered the last months of the Eisenhower and then the Kennedy administrations. He introduced President Kennedy on CBS for the president's Cuban Missile Crisis speech and later overflew Soviet ships carrying missiles out-bound from Cuba.

In 1963 he was recruited by rival NBC News to manage its local news in Washington, D.C. He returned to Kansas in the late 1960s to help build a new NBC television station in Topeka before joining the KU faculty.

He taught at OU for 11 years before he retired in 2000 as professor emeritus and returned to writing. Since coming to Norman, he signed the forward to his books, "On the banks of Imhoff Creek," where he lived in south Norman.

"We at Gaylord owe much to him," Ed Kelley, dean of Gaylord College, said in a note to faculty members announcing Dary's passing. "His vision was what we enjoy today."

David was preceded in death by his parents, Milton Russell Dary and Ruth Engel (Long) Dary.

Survivors include his wife, Sue, an artist, whom he met when they were students at Kansas State University. She has recently painted dust jacket covers on two of his books. They were married for 62 years and have four daughters, seven grandchildren and twelve great-grandchildren. The daughters are Catherine Gandesbery and husband David, Norman, Carol Dunevant and husband David, Cincinnati, Ohio, Cynthia Rugolo and husband John, Annapolis, Md., and Cristina Aiken, Oklahoma City; grandchildren: Jacob, Jeremy, Cristian, Jennifer, Violet, Kelly and James; as well as many friends.

The family has suggested memorial donations be made to the Shriners Hospital for Children.
Previous Events
Celebration of Life
St. John's Episcopal Church
235 W. Duffy St.
Norman, OK 73069
Memorial Contribution