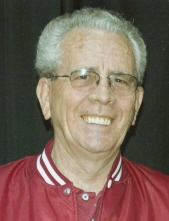 Obituary for Derald Cooper Fendley
Derald Cooper Fendley was born on April 20, 1940 to Monnie Leon & Margaret Lucile (Gunter) Fendley in Thomasville, Alabama. He married Margaret Jeanette Spoon in Chickasaw, Oklahoma on September 29, 1967. The couple made their home in Norman after Derald retired from the US Air Force in 1981.
Derald retired from the Air Force after 20 years of service and he continued to work for the military as a civilian employee after his retirement. Derald liked being busy. He enjoyed working in his yard, he attended Westside Church of Christ in Norman, and he volunteered for 16 years (over 11,000 hours) at the Norman Regional Hospital.
Survivors include his loving wife, Margaret (Jan) Fendley, his son Leonard Conn and wife Kerry of Norman; his daughter Carol Smetanka and husband Greg of Lake Lotawana, MO; his daughter Donna Swarb and her husband Richard of Granbury, TX; six grandchildren; five great-grandchildren; his brother-in-law Ron Dudley, of Frederick, Maryland; nephew Derald Dudley, Baltimore, MD; niece Ronda Dudley, Frederick, MD. Derald was preceded in death by his sister Shelia Dudley and his parents Monnie & Margaret.
There will be no local services. Derald will be buried at Fort Sill National Cemetery, Lawton, OK at a later date. In lieu of flowers, the family requests that memorial donations be made in Derald's name to the Norman Regional Hospital Auxiliary.
Memorial Contribution
Norman Regional Hospital Foundation
901 N Porter Ave
Norman, OK 73071
Norman Regional Hospital Auxiliary