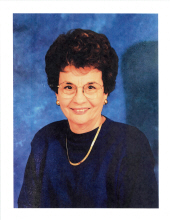 Obituary for Eva Clair Castleberry
Eva Clair McGee Castleberry, 87, died April 3, 2020 in Norman, Oklahoma after a life dedicated to helping others. Eva was born in Pauls Valley, Oklahoma on February 21, 1933 to Roy Albert and Myrtle Eva McGee. She was a 1951 graduate from Pauls Valley High School where she was active in numerous clubs and activities. After high school she attended Oklahoma A&M, was initiated into the Chi Omega Sorority and earned a Bachelor in Business Administration in 1955. More importantly she met her husband of 64 years, Allan Ray Castleberry of Tulsa, Oklahoma during her college days.
Shortly after graduating from Oklahoma A&M she moved around the country with her husband as an Air Force wife before having two sons while stationed in Lincoln, Nebraska. At every stop she found work in secretarial or business administration jobs. Her favorite positions were with local school districts in Papillion, Nebraska and later at West Mid High in Norman and finishing her working career as an attendance secretary at Norman High School. She relished knowing so many of Norman Public Schools students and seeing them about town as they graduated, got jobs and headed off to college.
In addition to work, Eva enjoyed volunteering at hospitals in various capacities. She was still volunteering at the Norman Regional Hospital HealthPlex, into her early 80s.
Eva will long be remembered and cherished as a devoted and supporting wife, loving daughter, mother, grandmother and friend. A line in the Chi Omega Symphony says "to be womanly always", is a perfect description of Eva. Having given birth to two sons, Eva loved having "daughters" join the family by marriage and would do anything for them. While she was proud of her "boys" she really lit up whenever someone asked her about her grandchildren which she had unending love for. Being grandma to her three grandchildren was without question her favorite job and one which she will be missed.
She was preceded in death by her parents and her husband Allan in 2019. She is survived by son Richard Allan Castleberry and his wife Katherine Cole Castleberry of Tulsa, son Robert McGee Castleberry and his wife Robyn Ely Castleberry of Norman. Granddaughter Clair Nicole Castleberry of Tulsa, Grandsons Colton Robert Castleberry and Connor Roye Castleberry of Norman.
A private family graveside interment will be held at 2 p.m. on Tuesday, April 7, 2020 at Pauls Valley Mount Olivet Cemetery.
A remembrance reception for friends and loved ones will be held at a future date.
In lieu of flowers, donations can be made to Norman Public Schools Foundation www.npsfok.com.


Previous Events
Private Family Services
Mount Olivet Cemetery
1906 S. Chickasaw St.
Pauls Valley, Oklahoma 73075
Memorial Contribution