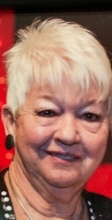 Obituary for Jane Waldrop
Alta Jane Waldrop was born on February 13,1943 in Little Rock Arkansas. Her father, Alfred Nelson Quick and mother, Maude Muller Reeves Quick moved Jane and her siblings to Oklahoma City when she was very young. Jane grew up on the southside of Oklahoma City and attended Grant High School.

She loved her family and she is survived by daughter Traci Bowlware and her husband Kevin of Oklahoma City, Oklahoma, daughter Deborah Waldrop of Mustang, Oklahoma and son James Waldrop IV and his wife Valerie of Corpus Christy, Texas. She loved her grandkids so much and is survived by her six granddaughters: Stephenie Bowlware and husband Brandon Milligan of Oklahoma City, Oklahoma, Sydney Pyle and husband Cody of Oklahoma City, Oklahoma, Sierra Waldrop of Melbourne, Australia, Savannah Waldrop of Austin, Texas, Sheridan Cravens and husband Ben of Oklahoma City, Oklahoma, and Sasha Waldrop of Mustang, Oklahoma. Jane is also survived by her only grandson, Spencer Bowlware of Oklahoma City, Oklahoma. Jane also leaves behind, "the loves of her heart" her three great-grandsons Anderson, Pierson, and Nixson Pyle all of Oklahoma City, Oklahoma. Jane was the second eldest of seven children born to her parents. She is preceded in death by her two brothers Marvin Quick of Little Rock, Arkansas and John Quick of Quinlin, Texas. She is survived by siblings Barbara Kay and husband Hershel of Altus, Oklahoma, Michael Quick and wife Kathleen of Kinsale, Virginia, Karen Cartwright of Oklahoma City, Oklahoma, Malinda Villar and husband Micheal of Ponca City, Oklahoma as well as many nieces and
nephews.

Jane will truly be missed by all who knew her. It was well known that Jane was an excellent cook, and she loved sports, especially her Oklahoma Sooners and Thunder basketball. She could get pretty riled up if she thought the officiating was bad. Jane moved in 1999 from OKC to Lake Charles, Louisiana to be near her best friend Judy Chastain. She lived there until her health conditions brought her back to Oklahoma to live with her daughter Traci.

Jane is with Jesus now. She was a beautiful woman who had a beautiful life. She will be deeply missed by all that knew her. Jane is under the care of Tribute Memorial Care in Norman. Condolences, memories, and photos may be shared with the family at www.tribute.care.