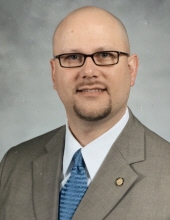 Obituary for John Ryan Pevehouse
John Ryan Pevehouse of Norman, Oklahoma was born to Jacque Fincher (Lamb) and adopted father, Ken Pevehouse on August 12, 1967 in Oklahoma City, Oklahoma. He passed on January 17, 2020 at the age of 52.

After college, John followed his heart and began serving as a youth minster in the Waterloo Road Baptist Church, where he stayed until 1996. It was over the course of this service to the church that he met the love of his life, Monica Janky, and they were married on June 7, 1996 in Oklahoma City, Oklahoma. The story of David vs. Goliath particularly resonated with John, and it is perhaps this story that led John to be pulled towards getting a law degree, a dream which he saw to fruition in 2003 when he graduated with his Juris Doctorate from Oklahoma City University. John practiced law for 17 years. For 11 years John was a vital part of the Cleveland County District Attorney's office serving as an Assistant District Attorney, a position he fulfilled with pride and vigor. John had a deep respect for the law and a strong sense of justice; he was proud of his role in keeping Cleveland County a safe place to live. John never forgot the lessons of David and Goliath; he had a strict moral compass and he took great pride in the role he played in making what was wrong, right again. Simply put, his desire was justice for the victim.

John was a man of varied interests and talents. One of his favorite interests was going as a family to Ashlyn's cheer activities and competitions. He beamed with pride when he spoke of her awards and accomplishments. John had a very outgoing personality and a great sense of humor—he loved making people laugh. He was a real jokester, was always the life of the party, and was known for his quick wit, funny stories, and ornery antics. He was a talented guitarist and was a classic car enthusiast. John enjoyed the cinema, especially comedies and sci-fi flicks, and bantering with his brother and buddies using one-liners from their favorite movies.

John loved being involved in the church and in politics at the local level, but more than anything he loved being a husband to his wife Monica and a father to their daughter Ashlyn.

John was preceded in death by maternal grandparents Lucile Primm and Larkin Lamb, grandparents-in-law Tonie Janky and Geneva Van Meter, and sister Angela Cox.

He is survived by: wife Monica (Janky) Pevehouse; daughter Ashlyn Pevehouse; parents Charlie and Jacque Fincher; mother- and father-in-law Vicki and Wilfred Janky; brother Greg Cox and wife Stacy; sister Jody Druckenmiller and husband Mark; sister-in-law Kim Stafford and husband Doug; and several nieces and nephews: Ryan Cox, Victoria Stafford, Taryn Stafford, and Brandon Hilburn.
Previous Events
Visitation
Tribute Memorial Care Event Center
708 24th Ave. NW
Suite 200
Norman, OK 73069
Celebration of Life
Wildwood Community Church
1501 24th Ave. NE
Norman, OK 73071
Cemetery Details
Location
Kolb Cemetery
3706 N. Midwest Blvd.
Spencer, OK 73141