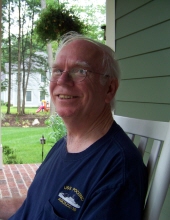 Obituary for Kenneth "Ken" Virgil Spaulding
Kenneth Virgil Spaulding went to live with the Lord on July 12, 2019. He was born on June 6, 1947 in Wewoka, Oklahoma, to his parents William Nathan and Carnice Eva (Conway) Spaulding. He grew up in Stillwater and Wewoka, Oklahoma and graduated from Wewoka High School.
After high school, Ken joined the US Navy and was very proud to have served on the USS Pocono out of Norfolk, Virginia from 1965 to 1969. Later, he was in the Naval Reserves attached to a Seabee unit on Tinker AFB, Midwest City. He attended a few of the Pocono ship reunions and very much enjoyed his shipmates, especially Sidney Segura from New Iberia, Louisiana.
While in the Navy, he met Mary Ann Flood in Boston. They were married on August 30, 1969 in New York City, where she worked as an RN. They lived in Norfolk where Ken attended Old Dominion University and graduated with a degree in accounting. Upon completion of his degree, they moved to Lawton, Oklahoma and then 2 years later to Norman (in 1975) where they made their home. He worked for the University of Oklahoma and then worked 22 years as a municipal accountant for the City of Oklahoma City. Ken passed the CPA exam and for several years he was an instructor for the Becker CPA Review Course.
While in Norfolk, their first child, Paul, was born and their second child, Robin, was born in Lawton. Both children attended and graduated from Norman Public Schools.
Ken was a kind and gentle soul who lived his faith through his actions. He was very honest, and brave in his long battle with Parkinson's Disease. He had many siblings and was beloved because of his good nature and caring attitude.
He was a member of the First Baptist Church of Norman for 40 years where he served as an usher. Ken enjoyed reading, attending OU football games, and watching movies. An avid Beatles fan, he loved rock and roll music of the 60s. He had a highly refined sense of humor, and although the jokes were few, and he was a quiet guy, his timing was perfect.
Ken will definitely be missed. He was a man of integrity, highly intelligent, and a role model for doing the right thing. He was a loving father, husband, brother, uncle, and grandfather. His grandchildren were his delight.
Kenneth is survived by his wife of nearly 50 years, Mary Ann, son Paul Scott Spaulding (and wife Betty Romero Spaulding) of Edmond, daughter Robin Michele Spaulding (and husband Glenn Edward Lawson) of Oklahoma City, and 3 granddaughters Adeline, Cilla, and Tegan. Also, 3 sisters, Virginia Spaulding Brand of Plano, Texas, Eva Spaulding Perry of Norman, and Mary E. Spaulding Armstrong, of Norman. He has 2 surviving brothers, Carl Edward Spaulding of Stillwater, and Richard Edwin Spaulding (and wife Susan Brown Spaulding) of Choctaw. One brother-in-law, Harry J. Flood (and wife Madeline Flood) of Amherst, Massachusetts. He also has numerous nieces and nephews.
He was preceded in death by his mother and father, 3 sisters- Juanita Lillie Spaulding Bardtrief, Carnice Rae Clem Barksdale, and Barbara Marilyn Spaulding, and 4 brothers, Bill Spaulding, Charles Clem, Harold Dewayne Spaulding, and baby Leroy Spaulding.
The family would like to thank the staff of Arbor House Reminisce and the staff of the Norman Veteran's Center for the wonderful care given to Kenneth. Also, Dr. Stephen Lindsey, Dr. Cherian Karunapuzha, Julie Jones, the Harold Brooks Sunday School Class at First Baptist, and the Wednesday afternoon speech class at NRHS Tecumseh Road campus.
In lieu of flowers, donations may be made to the Michael J. Fox Foundation or the Parkinson's Foundation of Oklahoma.
Previous Events
Celebration of Life
First Baptist Church, Norman
211 W. Comanche St.
Norman, OK 73069
Memorial Contribution
Parkinson Foundation of Oklahoma
720 Wilshire Creek Blvd.
Suite 109
Oklahoma City, OK 73116