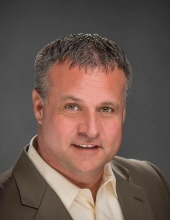 Obituary for Kevin Scot Goodnight
Kevin Scot Goodnight of Moore was born on November 15, 1972 to Lacey Myles and Beverly Ann (DuClos) Goodnight in Tulsa, Oklahoma. He departed this life at the young age of 45 on February 18, 2018.

Kevin was a loving father who always took time for his children and was always looking for ways to connect with each one. With his oldest daughter, Victoria, it was through sports; when she was a toddler they would watch NASCAR together and Kevin enjoyed attending her track meets and encouraged her to work hard at running. With his son, Spencer, it was through hunting and fishing; Kevin took Spencer with him on his annual family hunting trip to Eastern Oklahoma for the deer season and they enjoyed fishing as well. With his youngest daughter, Gabby, it was through bowling and baking; they were learning to make crepes and his favorite cookie, Snickerdoodles together. Kevin was a notorious cookie lover, earning the nickname "Cookie Monster" from his children, who would hide any cookies they brought into the house so that he would not eat them all. Kevin loved being outdoors, whether he was grilling in the back yard, hunting and fishing, or snow skiing in the mountains.

Kevin served his country with the National Guard. He was a proud firefighter with the Moore Fire Department and worked out of Station One until he had to take medical retirement in 2013, a decision he did not take lightly. He was a devout Catholic and a 2nd Degree Knight in the St. Mark the Evangelist Catholic Church's Knights of Columbus chapter.

Kevin was preceded in death by his parents. He is survived by: wife Nicole Goodnight of the home; mother of his children Brenda Goodnight of Moore, Oklahoma; children Victoria, Spencer, and Gabby Goodnight of the home; step-sons Seth Ledford of Fort Hood, Texas and Ryan Ledford of Hemet, California; brother John Goodnight and wife Lori of Owasso, Oklahoma; nieces Amanda Taylor, Beverly Smallwood, Chelsie Goodnight, and Danielle Goodnight; and a host of extended family and friends.
Previous Events
Memorial Mass of Christian Burial
St. Mark the Evangelist Catholic Church
3939 W Tecumseh Rd
Norman, OK 73072