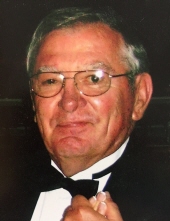 Obituary for Mac Kenneth Hennigan
Mac Kenneth Hennigan was born on June 29, 1938 to Gus Horton and Bessie Jewell (Cummings) Hennigan in Jonesboro Hodge, LA. He passed away peacefully January 20, 2020 in Oklahoma City, OK.

Mac served in the United States Army for 22 years, serving a tour in Vietnam and 2 tours in Korea. In 1979 he retired with full honors and rank of Major, however, retiring from the military at that time was his one and only regret. After his military service Mac spent the next 20 years working in the rent-to-own business both in the U.S. and Canada retiring as the Chief Operating Officer in 1999. Although he saw much success in his business career his biggest success was as a husband, father, Papaw and a faithful friend to so many. He loved the outdoors and looked for any opportunity to go hunting or fishing. He loved watching football. As an alumnus from the University of Nebraska, Mac never missed cheering on his Cornhuskers and as an American he always cheered for the Dallas Cowboys! He cherished his family and was most at home when he was surrounded by his grandchildren. He was a great example of a father to his two sons and loved them well including their wives. Most important to him was the love of his life, his high school sweetheart and wife, Jan. She was everything to him and he faithfully loved her over their almost 64 years of marriage. Most importantly he knew and loved Jesus. Over the past 20 years his faith became stronger and he often shared his love for the Lord with others.

Survivors include his wife, Jan Hennigan; two sons, Doug Hennigan and wife Chrissy of Tulsa, OK and Scott Hennigan and wife Marcé of Norman, OK; sister, Dorothy Brown of Quitman, LA; six grandchildren, Angela Stottlemyre and husband Caleb of Glendale, AZ, Caleb Hennigan, Addie Hennigan, Kayleigh Hennigan, McKenna Hennigan and Kai Hennigan all of Norman; friends as close as family, Jeff & Shannon Baldwin and children Riley and Gentry Baldwin of Bixby, OK; and numerous nephews, nieces and loved ones.

Mac was preceded in death by his parents, Gus & Bessie Hennigan; sister, Helen Harrington; four brothers, Moultre Hennigan, Malvin Hennigan, Murl Hennigan and Leslie Hennigan.
Celebration of Life Services for Mac will be held 2PM, Friday, January 24, Wildwood Community Church, 1501 24th Ave. NE, Norman.

In lieu of flowers, contributions are being made to Young Life – South Central Oklahoma (OK21).
Previous Events
Celebration of Life
Wildwood Community Church
1501 24th Ave. NE
Norman, OK 73071
Memorial Contribution
Young Life South Central Oklahoma (OK21)
291 N. Crawford Ave.
Norman, OK 73069