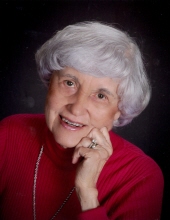 Obituary for Margaret Chandler
Our dear Mother/Grandmother Margaret Chandler passed away 3/20/20 after a brief illness.

Margaret was born to Susie and Jim Doherty on 9/25/34. Her birth was considered miraculous at the time, as Susie and Jim were told that they would never have children, and then in her mid-forties, Susie had Margaret. It was almost unheard of for a woman well into her 40's to give birth during that time. Susie and Jim ran a general mercantile in the now virtual ghost town of Vaughn New Mexico, but because of the potential difficulties with her delivery, Margaret was born at the "large" hospital in Albuquerque. During her early years Margaret ran all over Vaughn and enjoyed being the store-keepers daughter. One of the highlights during these times was going on a road trip with her father Jim to see his sister in Bakersfield California. Susie stayed in Vaughn to look after the store, while Margaret and her Dad drove the 30's model Chevrolet to Bakersfield and back, stopping in Los Angeles and Hollywood along the way. Shortly thereafter Jim passed away with brain cancer. Margaret could always tell stories about this wonderful trip to California that she shared with her Dad.

After the passing of her father, Margaret and her mother moved to Albuquerque where Margaret, continued to enjoy being a store-keepers daughter, and rode the bus by herself all over the city, until she started driving at age 14. Summers were spent with various members of the Doherty family in and around Folsom NM. She attended St Vincent's Academy which set the foundation for her strong Catholic faith. While at St Vincent's she met the love of her life, Richard (Dick) Chandler who attended nearby Albuquerque High. After graduation in 1952, she attended the University of New Mexico, and was a member of Alpha Delta Pi sorority. Midway through her studies Margaret married Dick Chandler 2/11/1956 at St Charles Borromeo Church in Albuquerque.

Margaret and Dick moved to Alamogordo, NM after their marriage, where she began to support Dick's long career in the aviation/auto research industry. While in Alamogordo, Margaret worked at Holloman Airforce base in the office of personnel management. Her son Jim was born in 1962, she finished her degree at the University of New Mexico in 1964, and daughter Jane was born in 1966. In 1968 the family moved to Gaithersburg MD, and in October of 1970 the family moved to their permanent home in Norman Oklahoma

During her time in Norman, Margaret continued to support Dick's career. She loved going to conferences with him around the US and the world. She worked at the Postal Training Institute in the 70's and later worked for Norman Public Schools in the Professional Development Center, retiring after many years of service. Margaret truly loved the friends she made during her 50 years in Norman, particularly the Everett family. Margaret and Joan Everett had many good times over the years, watching their children grow up, running around Norman/OKC, and enjoying many glasses of wine together. Margaret loved her dogs Sam, then Ben. She was a member of both St Joseph's and St. Thomas More parishes where her faith grew over the years. Sunday morning was her favorite time, first going to Mass, and then brunch at Legends. Margaret's faith was always important to her, and she attended daily Mass until recently.

Margaret was preceded in death by her husband of sixty-three years, Dick. She is survived by son James (Jim) Chandler, daughter in law Madeline Chandler, grand/great grand-children Cherish and Brian Loog, Hailey Loog, Joseph Loog, Mary and Josh Torres, daughter Jane Chandler Campbell, son in law Steve Campbell, grand-daughter Olivia Campbell, extended family Joan Everett, Blake and Jenny Everett, Abby Everett, Gus Everett, Kristie and Walter Van Hoozer, Katherine Van Hoozer, Jake Van Hoozer, Will Van Hoozer, and Clark Everett.

Special thanks go to the staff at Home Instead particularly Cindy, Denee Hacker, and Scott Reagan for the care they provided in recent months.

Father Jim Goins will preside over a private burial service. A funeral/memorial service will be held at a later date.

In lieu of flowers the family requests that donations be made to charities helping those impacted by the Covid-19 pandemic.


Events
Event Information
Private Family Services with a Memorial Service at a Later Date