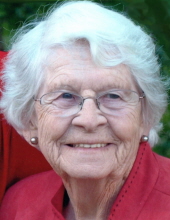 Obituary for Margaret Louise Wynn
Margaret Wynn was born in Dewey, Oklahoma on December 15, 1922 to Art (Arthur) D. and Florence G. (Simpson) Montgomery. Margaret's father Art passed away when she was a baby, and she was raised by Florence and Cecil Juby, her stepfather. She passed away peacefully at her home in Norman on July 24, 2019.
Margaret loved traveling in her R.V. to go fishing all over the country. She was an amazing cook. She was a hard worker, working as a waitress at the Burlingame Hotel, in retail at Woolworth & Walmart, and then caring for the elderly in their homes before retiring. Margaret's family has special memories of the love and joy she gave to each one. Margaret's faith was a very important part of her life. She enjoyed reading the Bible and adored her church family. Margaret married her husband, Richard on February 2, 2018.
The family would like to extend a special thank you to Frontier Hospice for the loving care they provided to her during her final days.
Margaret was preceded in death by her father Art; her mother Florence; stepfather Cecil Juby; sisters Bessie McCormick, Pansy Mae Loyd, Joan Chavez, Dorothy Sharp, & Norma Buno; brothers George Dale Montgomery, Freddie Juby; her husband Clifford McKibben, daughter Barbara Jones; and grandsons Lonnie & Ronnie Jones; and grand-daughter Becky Jones.
She is survived by her loving husband Richard Wynn; her daughter Sonya Smith (Harry) of Norman, Oklahoma; and her nieces Karen Hansen (Clint) of Snohomish, WA and Rhonda Lankford (Greg) of Magnolia, Texas; and three grand-children, eleven great-grandchildren, and numerous great great grand-children, nieces, nephews, friends, and loved ones.
Previous Events
Visitation
Tribute Memorial Care Event Center
708 24th Ave. NW
Suite 200
Norman, OK 73069
Graveside
Sunset Memorial Park
2301 E. Indian Hills Rd.
Norman, OK 73071