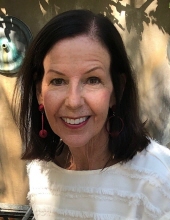 Obituary for Mary Coleman
Mary Jane (Lowery) Coleman was born in Tulsa, Oklahoma on September 2nd, 1955 to Lucille Rose Banasik (Lowery). She was raised in Tulsa by Lucy and her father, Joseph (Joe) Eugene Lowery, who adopted her at age 9. Mary passed away peacefully at home on January 16th, 2020 with her family by her side.

Mary was a selfless, resilient, and independent woman who cared deeply for her family and the Norman community. She attended Edison Junior and Senior High Schools, was a proud Edison cheerleader and still remembered her tryout cheer, which she performed quite frequently for her family. Mary earned her Bachelor of Science and Master of Science degrees in Physical Education from the University of Oklahoma (1977, 1981), where she was also a member of Pi Beta Phi sorority.

She married Bill Coleman on December 10, 1983 at University Methodist Church in Tulsa. Throughout their marriage they took many trips with friends including ski trips to Beaver Creek and beach trips to Rosemary, FL, and enjoyed OU/Texas weekends in Dallas every October. Mary also loved late nights at Benvenuti's on gameday weekends surrounded by her closest friends. Her career as a P.E. teacher at Jackson Elementary in Norman spanned 41 years before she retired in 2019. At Jackson, Mary's enthusiasm for fitness inspired thousands of students to appreciate their physical gifts and live a healthy lifestyle. She started the Jump Rope Club (Jackson Jumpers) which performed for other local schools and organizations. Mary was extremely proud that the program was adopted by other school districts statewide. Mary also worked closely with the Jackson music faculty, choreographing numerous school programs from the Nutcracker to The Sound of Music. Additionally, Mary started the Running Club at Jackson, and each April led a trip to OKC where members of the running club ran the last mile of the OKC Memorial Marathon. As a result of her steadfast commitment to Jackson students, in 2019 Jackson Elementary created the "Mary Coleman Physical Fitness Award," given to two students annually that demonstrated excellence in physical fitness.

Mary loved any type of competition. She played church softball for McFarlin for over 15 years, where she formed great friendships with many teammates. The love for softball and being with her children led to years of coaching the Jackson Angels. Many people marveled at Mary's ability to skillfully teach her players the game while also developing meaningful friendships with all she coached. She loved her Oklahoma Sooners, particularly the football, gymnastics and softball teams, and was a devoted fan of the New York Yankees.

Mary's most endearing quality was her dedication to family. She deeply valued developing close relationships with each of her four children and provided unwavering support in all their pursuits. Their activities took her to many places, and she could not have been prouder of her kids. She loved watching Allison's gymnastics meets, coaching Jill's soccer teams and attending pom competitions, and cheering on Russ and Jack at soccer tournaments. In recent years, she enjoyed TRX and Zumba classes with her daughters. Mary also cherished trips to visit Russ and Jack in Winston-Salem, Durham, San Francisco, Washington, D.C., Atlanta, and Boston. She was a woman of principle who lived her values of loyalty, commitment, integrity, compassion and strength every single day.

Mary is survived by her husband of 36 years, Bill Coleman. Together they raised four children: two daughters, Allison Parker (Spencer), and Jillian Coleman (Ricky Dent) of Oklahoma City and two sons, Russ Coleman (Paula Aduen) of Boston and Jack Coleman (Brittyn) of San Francisco. Mary's newest pride and joy was her granddaughter, Rowan Harriett Parker. She is also survived by her father Joe of Tulsa, and Aunt Martha Williams of Broken Arrow.

Mary is preceded in death by her mother, Lucy Lowery.

The family would like to thank Drs. Tom Merrill, Daniel Isbell, Kristin Thorp, and Ed Dakil, in addition to the Norman Regional Oncology and Good Shepherd Hospice nurses for their kindness, friendship, and care.

In lieu of flowers, the family respectfully asks for contributions to be made in Mary's memory to the Norman Public Schools Foundation and the Jackson Elementary PTA.
Previous Events
Celebration of Life
McFarlin Memorial United Methodist Church
419 S. University Blvd.
Norman, OK 73069
Memorial Contribution