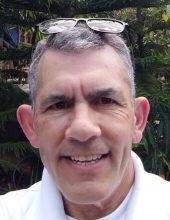 Obituary for Michael Dion Landreth
Michael Dion Landreth of Oklahoma City was born in Norman, Oklahoma on September 20, 1958 to Rafael Simon Machado Reyes and Joretta Anne (Sorge) Landreth. He passed at the age of 60 on April 27, 2019, doing what he loved: running.

Michael attended high school in Newton, Kansas before graduating from the University of Oklahoma in 1988 with a degree in business. Michael married the love of his life, Kelly, on August 29, 1980. He worked with IBM and several other companies, recruiting developers, IT specialists, and data base managers. Michael translated his love of technology to a wealth of gadgets, including eight cell phones, two tablets, and a laptop computer. He loved watching movies; good or terrible, it made no difference. He enjoyed going to the movie theater, but he also amassed an extensive collection of Blu-Rays and DVDs over the years. He was a huge Star Wars fan, watching the original trilogy so many times when his sons were little that to this day neither of them will have anything to do with the franchise!

Michael was a Type 1 diabetic, and to manage the disease he took up running at a young age; he prided himself on being physically fit. Because his father was Venezuelan, Michael grew up speaking both Spanish and English, a skill he carried into his adulthood. He had many Spanish-speaking friends and kept in contact with his family members that remained in Venezuela. He frequently sent photos and videos to South America, including videos of snow when he could take them.

Michael was preceded in death by his parents and Kelly Landreth, his wife of 29 years. He is survived by sons Timothy Landreth and wife Emily and William Landreth; daughter Jessica Shipley, all of Norman; granddaughter Sibyl Landreth; sister Lisa Greer and husband Chris of Houston, Texas; brothers Steve Landreth and Robert Landreth and wife Misty, both of Norman; siblings in South America: sister Janet Consentino and husband Luca, brother Ralph Machado and wife Irina, sister Tania Kuhfuss and husband Alain, and Tammy Melero and husband Juan; and a host of extended family and friends.

Michael's family has entrusted his care to Tribute Memorial Care in Norman (708 24th Ave NW, 405.292.4787). There will be a come and go visitation on Monday, May 6th from 12:00-8:00 pm at the funeral home. Michael's family will be present to receive friends during this time from 6:00-8:00 pm.


Previous Events
Visitation
Tribute Memorial Care Event Center
708 24th Ave. NW
Suite 200
Norman, OK 73069
Michael's family will be present from 6:00-8:00 to receive friends.