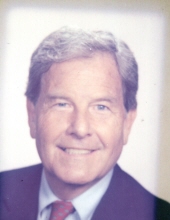 Obituary for Sam Graham "S.G." Hale, Jr.
Sam Graham "S. G." Hale, Jr. of Norman passed away July 10, 2019 at the age of 88. S. G. lived all 88 years of his life in Norman. He was a loving husband, father, grandfather and great-grandfather. Those left to cherish his memories are his wife of 63 years, Elaine Fulton Hale; daughter Kimberlee (Keo) Hale Lynch and husband Michael Lynch; son, Gray Hale; daughter, Dana Hale McLean and husband Randy McLean; and daughter, Anja Hale. He is also survived by his loving grandchildren Halee Lynch, Clay Lynch, Dara McLean Korn, Mauri McLean and great-grandchild Carter Lynch. He is preceded in death by his father, Sam Graham Hale, his mother, Leota Hale and his sister, Phyllis Hale Logan.

S. G. grew up on North Flood Street, attended Washington Grade School and Norman Jr. High. He was a member of the Honor Guard and lettered in wrestling at Wentworth Military Academy in Missouri his Sophomore and Junior years in high school. He then returned to Norman and graduated from Norman High School. After high school, S. G. attended the University of Oklahoma where he was a member of the Phi Delta Theta Fraternity. College was interrupted by the Korean War. S. G. enlisted in the United States Navy in 1950 and served for four years. In 1953, S. G. fought in the Korean War on the Destroyer USS Shelton in Wansang Harbor, North Korea.

In 1954, S. G. returned to Norman to run Hale's Department Store. In June of 1955, S. G. met and fell in love with Elaine Fulton and married her August 8, 1955. S. G. then returned to his studies at OU graduating in 1958 with a Bachelor's degree in Business Administration. In 1955, S. G. opened Hale's Campus Shop on the campus corner of the University of Oklahoma. He later opened The Canterbury Shop in Oklahoma City. S. G. became an Allstate Insurance Senior Account Agent and retired after 28 years.

S. G. became a member of the First Baptist Church of Norman in 1940 and was recently recognized for having the longest membership at the church.

Celebration of Life Services for S. G. will be held 1:00PM, Saturday, July 13, First Baptist Church, 211 W. Comanche St., Norman. Memorial donations for S. G. may be made in honor of his special relationship with his daughter, Anja Hale. Donations: online at www.autismcenter.org; mail to SAARC, 300 N. 18th Street, Phoenix, AZ 85006; or by phone 602.606.9881 and ask for Natalie Jasso.


Previous Events
Celebration of Life
First Baptist Church, Norman
211 W. Comanche St.
Norman, OK 73069
Memorial Contribution
Southwest Autism Research & Resource
300 N. 18th Street
Phoenix, AZ 85006