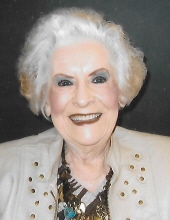 Obituary for Sammy Lou Franklin
Sammy Lou (Norman) Franklin passed away on Saturday, April 18th, in Norman Oklahoma. She was born June 20, 1932 to Vica Buren (Choc) and May Elizabeth (Whitehead) Norman, in Garvin County, Oklahoma near Pauls Valley. She attended school in Garvin County, graduating from Pauls Valley High School and then attended East Central State University in Ada, Oklahoma. There she met the love of her life, Kelly Edmond Franklin. They were married in 1953 in Ada, at Central church of Christ. Their marriage lasted 53 years until Kelly's death in 2006.
Sammy worked many years in medical profession business offices and also for Blue Cross of Texas. For 20 years Sammy was a business woman in partnership with her husband in a woman's clothing store in Norman, Oklahoma. After selling their store in 1998 she retired to help her husband with other business interests and real estate properties.
Sammy was a past member of the Dahlia Garden Club Altrusa of Norman and a long time member of Norman Regional Hospital Auxiliary Volunteers and the University and Alameda Church of Christ.
She is preceded in death by her parents, husband Kelly, sister Mary Feightner and two brothers, Keith Norman and James Norman. She is survived by two sons, Lynn Franklin and his wife Julie, Jay Franklin and his wife Maria. Five grandchildren, Ryan and wife Sherry, Jason and wife Rachel, Jeremy and wife Karen, Kelly Joe and wife Megen and Molly and husband Phil, and eight great grandchildren, Brayden, Hudson, Kort, Jack, Graeme, Ella, Avery & Reed. She is also survived by her sisters, Dana Pearce and her husband Burnard and Clara Green and brother Ben Norman and his wife Fannie, and many nieces and nephews.
Sammy loved the Lord, her church, family and country deeply; She has touched many lives, always trying to help brighten someone's day and life and she felt it very important that others know God. One of her favorite sayings was "Don't miss heaven for the world".
Burial was at I00F Cemetery, Norman, Oklahoma, Graveside.