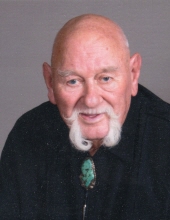 Obituary for Troy Glenn Drennan
Troy Glenn Drennan, born in Hobart, Oklahoma on April 28, 1933, to Mary and Doyle Drennan, died on April 26, 2020, in Norman at the age of 86. He graduated from Hobart High school in 1951 and moved with his parents to the Norman area. He married Billie Ruth Shaw at Immanuel Baptist Church on Valentine's Day in 1953.
Troy worked at the OU Commissary before enlisting in the US Army. He was stationed at Ft. Bliss in El Paso, Texas. Troy returned to work at the Commissary and then worked at the OU Student Union as a meat cutter for the next eleven years. He also worked at McCall's Cafeteria as the assistant manager and taught carpentry and weatherization at Action, Inc.
After taking a welding class at Noman High School, Troy began a new hobby making metal art sculpture. His art was exhibited in banks and restaurants throughout the Norman/OKC area. Troy was a talented artist in other mediums as well; he worked with pottery, jewelry, furniture construction, clay sculpture and painting. He was the first blacksmith at the Medieval Fair in Norman and exhibited his art at Norman's May Fair, in addition to art shows throughout the OKC area.
As a member and deacon of Bethel Baptist Church, Troy was active in the Men's Prayer Breakfast and Senior Fellowships. He looked for opportunities to help others and to tell them about the saving grace of Jesus. He lived his faith. He blessed his family with love and strength, and his friends with smiles, hugs and handshakes.
Troy was president of the Good Sam Norman Wheels Club and was a member of the Mobile Villa RV Club. He loved camping, hunting and fishing with his family and friends.
Troy was preceded in death by his son, Glenn Dale Drennan; his parents, Mary and Doyle and his brother Robert. He is survived by his wife of 67 years, Billie Ruth Drennan; his sister-in-law Elsie Shaw of Morgan Hill, CA; his daughter's family in Oklahoma - Kenneth and Cheryl Anderson; Justin and Megan; Jessica and Andy; and his son's family in Washington - Allan and Jennie Drennan; David and April, their sons Brice and Wyatt; Daniel Drennan; Dakota and Olivia, their children Callie and Ezra; Dalton and Karla, their children Isabella, Dahliah and Dalton Jr; Dylan Drennan and many loved cousins, nieces and nephews.
In Lieu of flowers the family would like to suggest a donation to Tiffany's Restaurant in Noble for their Annual B.K. Shaw Memorial Veterans Breakfast to: Community Aide, PO Box 764, Noble, OK 73068. Mr. Shaw was Troy's nephew and longtime hunting buddy.


Previous Events
Visitation
Tribute Memorial Care Event Center
708 24th Ave. NW
Suite 200
Norman, OK 73069
Memorial Contribution
Tiffany's Restaurant-Annual B.K. Shaw Memorial Veterans Breakfast
P.O. Box 764
Noble, Oklahoma 73068