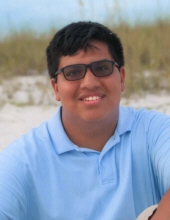 Obituary for Walker Daniel Pitchlynn
Walker Daniel Pitchlynn, beloved son of Joyce and Gary Pitchlynn, proud Chickasaw and Eagle Scout, walked on to be with his Creator on February 13 at 10:10am. He was an innocent victim of a robbery attempt by an 18 year old with a gun. Born as Daniel Isaac John on December 25, 1999 to Angela John, a single mother who entrusted him to her mother, Clara Kaniatobe. Walker's grandmother informally placed him with the Pitchlynn family when he was 6 months old, and they formally adopted him into the family in 2002, when his name was changed to Walker Daniel Pitchlynn.

Faced with multiple diagnoses from Asperger's and ADHD to anxiety and depression, Walker persevered and lived a beautiful life. He enjoyed riding horses, sailing, canoeing, snorkeling, rowing, flag football, baseball, soccer, tennis, golf, skiing, roller hockey, hiking, camping, fishing, driving the "Uber Bullet," video games, church camps and small groups, eating out, travel, and, later, dancing with the raver crowd to electronic music and DJ's in OKC. He earned his black belt at age 6 and as a young teen was a two-time state sparring champion. He stopped competing as his heart was too tender for it. Walker was quiet and shy, but once he became comfortable, he loved to joke and tease, giving great bear hugs and wrestling with his dad. Walker took Kumon Math and Reading, a program of daily academic work that originated in Japan, from age 3 to 15, and made the National Honor Roll in both every year. He was homeschooled from first grade through 8th, then attended Norman North. He was making arrangements to take the GED on the day he was killed.

Walker was active in scouting from Cub Scouts to Boy Scouts, ultimately achieving the rank of Eagle at 17. His mother led him through Cub Scouts, attending day camps, meetings and outings with him. When Walker joined Boy Scout troop 217, his father assumed responsibility for accompanying Walker in all outdoor activities from hikes to campouts and canoe trips in Oklahoma, Missouri, and Arkansas. His dad accompanied him to summer camps at Slippery Rock Scout Ranch and all campouts. Initially, Walker would find his way in the dark to his dad's single man tent and squeeze in with him, but eventually grew comfortable bunking in with fellow scouts. Working on merit badges expanded his horizons as he worked on the path to Eagle Scout. Walker loved the High Adventure trips with his troop: he did "Sea Base" on a sailboat in the Florida Keys twice and Philmont Scout Ranch in New Mexico for a 50-mile backpacking adventure.

Walker's latest passion was electronic music and DJ concerts (as neighbors could probably tell as it was all about that bass). He was part of the My Little Pony movement that is about kindness and acceptance and never met a stuffed animal he didn't like, especially ostriches. He had dreams of being a policeman, serving in the military, driving at NASCAR, designing "merch," welding, being a DJ, and so many more. Usually, if asked, he'd say with a big smile that he wanted to be a CEO. Recently he was always dressed in "merch"—baseball jerseys, hats, and hoodies from the DJs he liked. His best friend, Daniel Ard, and the Ard family, always laughed at his jokes and antics. Walker had recommitted his life to Christ at Timber Creek Church in late January. Unbeknownst to his parents, Walker was an organ donor, a decision that illustrates his kind, giving heart to the end. Walker was on a good path.

Walker leaves behind his adoptive family, parents Joyce and Gary Pitchlynn, big brother Peter Pitchlynn and sisters Ashley Payne and Penny (Hilary) Pitchlynn, nephews Gage Payne and Otis Riley-Fordyce. The Pitchlynn family gives thanks to Christ and to Walker's grandmother, Clara Kaniatobe, for blessing us with him 20 years ago.


Previous Events
Celebration of Life
Timber Creek Fellowship Church
2800 W. Indian Hills Road
Norman, OK 73069
Memorial Contribution
BSA Troop 217
c/o Darwin Scheffe
3009 Pine Hill Road
Norman, OK 73072
Timber Creek Fellowship Church
2800 W. Indian Hills Road
Norman, OK 73069