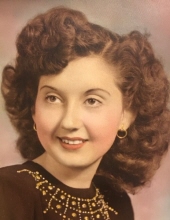 Obituary for Wanda Lucille Howk
Wanda Lucille Howk, 89, passed away peacefully on Saturday, April 11, 2020 at her home in Norman. She was born June 19, 1930 in Springfield, Colorado to Charles and Georgia (Berg) Smith. She inherited a kind heart from her dad and grit from her mother.

Wanda grew up in Ordway, Colorado among many cherished family members. As a young girl she intentionally committed to be happy and spread happiness to others in her life. She accentuated the positive and never complained as she faced life's challenges. After graduating high school she married John Wesley Howk from South Haven, Kansas. She was his soulmate for fifty years. Although relocating to the Oklahoma oil fields to live the final sixty years of her life, Colorado remained home in her heart. A homemaker by choice, Wanda provided a solid foundation for raising her three children. She modeled values rooted in faith.

Wanda was not only a giver to her family but also a giving member of each community she lived in. Whether teaching Sunday school, volunteering at Norman Regional Hospital or in later years, sharing a wave and smile from the car on a Meals on Wheels route, she could be counted on to spread optimism and joy to every person she met. She had a gift for telling stories. She enjoyed simple pleasures like picnics and porches. She loved life.

Wanda was preceded in death by her parents, husband, brother Harold Smith, sisters Evelyn Gray, Doris Garrison and Dorothy Smith.

She is survived by one sister, Carolyn Smith of Pueblo, Colorado and her three children Charles Howk, Rhonda (Howk) Harper and husband David, and John (Andy) Howk and wife Luanne all of Norman.

Her surviving grandchildren include Tony Brooksher of Norman, Anne (Howk) Gottschalk and husband Ryan of Norman, and Josh Howk and wife Cassy of Kingwood, Texas.

Great grandchildren include John, Scout, and Sam Howk of Kingwood and Grace and Jake Gottschalk of Norman. Wanda loved them all.

A family graveside service will be held at Sunset Memorial Park in Norman and will be followed by a picnic and storytelling in her beloved Colorado at a later date.


Events