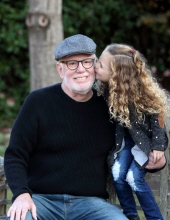 Obituary for Kevin Craig Myers
Kevin C. Myers passed away on August 15, 2019, in Oklahoma City, Oklahoma, after a battle with cancer and heart disease.

Kevin is survived by his wife of 47 years, Sharon Day Myers; two daughters Nicole Emerson and husband, Aaron, of Norman; Tiffany Myers, of Washington, DC; and a granddaughter, Madeline Emerson, of Norman; sister, Pamela Myers, of California.

Kevin was preceded in death by his parents and brother, Kerry.

Kevin was born in Washington State, on August 4, 1949, to Albert and Margaret Myers. He graduated from San Francisco State University with a Bachelor of Science in Marine Biology, and went on to get a Masters in Engineering Management. He and his wife, Sharon, served two years in the Peace Corps in Cameroon, Africa. Kevin went on to serve in the United States Coast Guard and was stationed in Juneau, Alaska. Kevin worked in the oil industry for a number of years in Alaska, Ecuador and Russia. Kevin later taught real estate at the Albuquerque Technical Vocational Institute (T-VI), in Albuquerque, New Mexico. Despite many years in environmental management, he was always the entrepreneur, writing a best-selling book on real estate and running many successful on-line marketing companies.

Kevin was first and foremost a devoted father, grandfather and husband. He loved to fish, hunt, watch OU football and travel. He was blessed to have fished in a number of different countries.

In lieu of flowers, donations can be made to Victory Family School, 4343 N. Flood Ave., Norman, Oklahoma 73069.

No public services will be held, condolences may be shared at www.tribute.care.


Memorial Contribution
Victory Family School
4343 N. Flood Avenue
Norman, OK 73069
Victory Family School In Memory of Kevin Myers 4343 N. Flood Avenue Norman, OK 73069