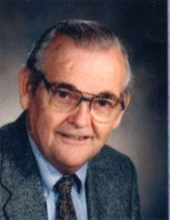 Obituary for Theron E. Blunck
Theron Elmer Blunck, (fondly known as T.E. by friends and associates) age 92, died in Norman, Ok. Sept. 1, 2019. Theron was born on June 2, 1927, the ninth of 10 children born to Edward Madison and Dottie Bringham Blunck. He was born in Clinton, Oklahoma, where his parents owned a professional photography studio.

After graduating from Clinton High School in May 1945, he was inducted into the United States Army in August of that same year, during the closing days of World War II. He reached the rank of Private, First Class as an x-ray tech in the medical branch.

Upon discharge in November 1946, Theron, returned to Oklahoma. After studying at the University of Oklahoma and Oklahoma City University, he returned to the family business of photography where he and his eldest brother, Edward "Doyle" operated Blunck Studios in Lawton, OK.

While attending OU with his sisters, Bette and Ordie, he met their best friend, Wanda Lee Shepherd. This meeting blossomed into a 66-year marriage. While Theron was employed at the studio in Lawton, he and Wanda were married at her parents home in Noble, Oklahoma on July 26, 1953. In 1963, Theron and Wanda moved their family from Lawton to their current home in Norman, Ok.

After a few years as an independent photographer, he partnered in 1967 with his sister and brother-in-law, Dottie and Paul Flick, to start a photography lab, known as Custom Developing and Finishing, Inc. (CDF) in Moore, Oklahoma. From this central Oklahoma location, CDF started out with Theron as the only employee printing 5x7 black & white photos of school activity pictures taken by Blunck Studio photographers across Oklahoma and the Texas panhandle. Soon the lab was retouching and printing portraits of high school Seniors throughout the state. Within a few years, they were also printing school-day and sports memory mate pictures packages for tens of thousands of area students every year. Theron witnessed CDF grow from a single employee to employing hundreds of employees, through 3 building expansions, with the main focus on printing school pictures from many studios across the country, until the lab's final production in the early months of 2015.

Preceded in death by his parents, Edward and Dottie Blunck, siblings, Doyle Blunck, Donald Blunck, Judy Russell, Katherine Crisp, Ruthie Blunck, Dottie Flick, Ordie Blunck, and Bette Simonds, daughter-in-law, Janice Higgins Blunck, in-laws, Lee Fines and Ruby Shepherd, brother -in-laws, Dan Shepherd, Frank Shepherd and sister-in-law, Nancy Cope.

Theron is survived by his wife, Wanda and all seven of his children, Theron Timothy Blunck and wife, Angela, of Norman, Marti Jeanne Callaghan, of Norman, Anne Elizabeth Ziegler and husband Conrad, of Norman, Edward Patrick Blunck, of Gulf Breeze, Fl., David Lee Blunck and wife, Kay, of Norman, James Daniel Blunck, of Norman and Dottie Alice Francis, and husband, Mike, of Elwood, In., 15 grandchildren, 12 great-grandchildren with another on the way, Michael Callaghan of Norman, Joe Callaghan and wife, Chloe, and their children, Emma, Ava, Jesse, and Hannah, of Norman, Erin Wright and husband, Eddie, and their children, Kayden and Kallie, of Oklahoma City, Jasmine Cook and husband, Jonny and their children, Jackson, Lincoln, and Scarlett, of Gulf Breeze, Fl., Shandra Lacich and husband, Zack and their children, Lucas and unborn daughter, of Keller, Tx., Stephen Ziegler and wife, Meredith and their children, Charlotte and Caroline, of Norman, Christopher Blunck of Edmond, Devin Blunck and wife, Brittani, of Houston, Tx. Rebecca Graae and husband, Kyle, of New York City, Andrew Blunck of Edmond, Staff Sargent USAF Samuel Blunck of North Pole, Ak., Robin Hillerby of Norman, Morgan Hillerby of Norman, Stephen Bratcher of Norman, and A.A. USN Brandon Bratcher of NAS Pensacola, Fl, his brother, Bill Blunck and wife Lynne, of Alvin, Tx., brother-in-laws, Dr. Robert Shepherd and wife, Mary Ann Sall, of Portland, Or., Dr. Jerry Shepherd and wife, Nancy, of Oklahoma City, and sister-in-law, Donna Shepherd, wife of late Frank Shepherd, of Savannah, Ok., and numerous nieces, nephews and friends

Theron was a generous, loving gentleman remembered by many friends and former employees, and will be dearly missed by all.


Previous Events
Visitation
Tribute Memorial Care Event Center
708 24th Ave. NW
Suite 200
Norman, OK 73069
Family will receive friends 6PM - 8PM.
Graveside
IOOF Cemetery
1913 N. Porter
Norman, OK 73071
Memorial Contribution
Meals on Wheels of Norman
528 E. Main St
Norman, OK 73071
or Charity of your choice.